Remember what a revolution it was when ICS came to replace Gingerbread? Though Android 12 is somewhat less of a step ahead, it still delivers some features that are worth just one try – and you will wonder how you have been living without them.
So, here are four reasons to wait for Android 12 and install it as soon as it rolls out for your device. While the release date for your mobile might not be announced yet, we expect Android 12 to start rolling out this year.
Improved Notification History
Smartphones are all about data, and it often comes with notifications. But is it easy for you to remember everything swiped away? With Notification History, it gets way easier. All you have to do is open the notification screen, scroll it down to the bottom, and tap the "History" button. It will show you all the notifications your smartphone has received in the last 24 hours.
If it's not there, it's not the fault of your device. There should be a "Manage" button instead. Tap it to access the settings section where you can activate notification history. Not that this feature is completely new, but now it has become a part of the system and much simpler to access.
New App Layout 2*2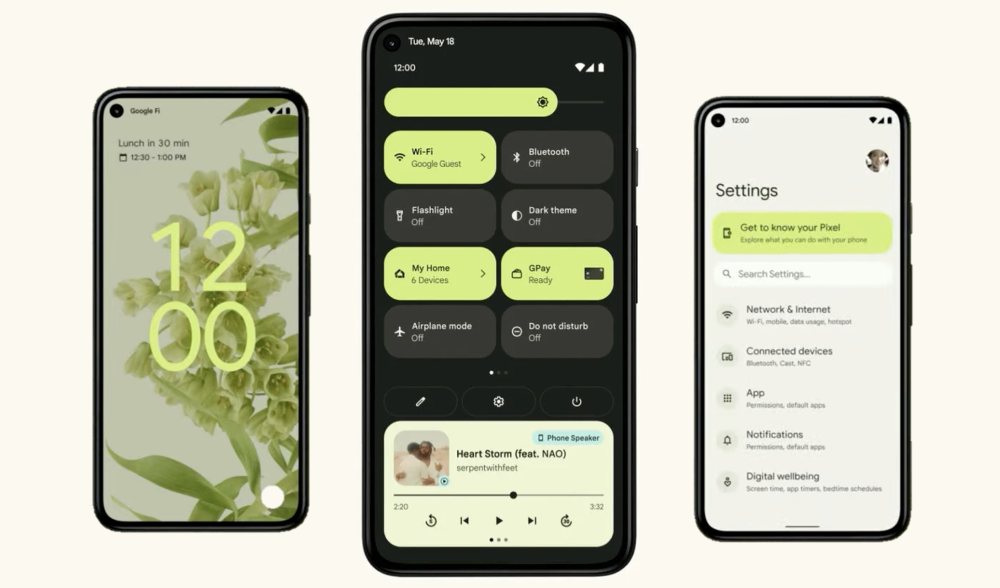 For those who would like larger icons (no matter for which reason, be it eyesight issue or behind-the-wheel lifestyle), there is an unusual new layout for the home screen. The app icons become so large that there is only enough place for four of them. So far, it's available for the Pixel series only, but as the update rolls out, this mode will become available for more phones.
Not that it will become a mass obsession, but those irritated with small apps would rather feel pleased and nostalgic with it. Like in the featurephone era, when there could be even one icon on the screen until you scroll it aside.
Gaming Mode
Again, this mode has already been introduced by third-party developers (Samsung, Motorola, Meizu, and so on). But now it's in the heart of Android, maintained by Google, so third-party developers may prefer it to their own product – or keep both if users want it this way.
Activating it, though, is trickier than what most rivals offer. As Google considers DND mode the most important thing about it (along with performance boost), you should enter Settings, go to Notifications, and then to Do Not Disturb. Here you can find the Game Mode box to tick as you want to play a game and don't want to be distracted from it.
Built-in options are rather rich, including YouTube streaming (what did you expect from Google?), FPS displaying over the game, or screen recording. They will make a pro gamer happy, and if you're not one, they will probably just go unnoticed.
One-Handed Mode (Even for the Biggest Phones)
Finally, there is a one-handed mode that does not just zoom out the screen, making it smaller in still a large body. Instead, the new one-handed mode just moves the top half of the content of your screen to the bottom half the moment you need it. To apply this shift, you will need to catch a little bar at the bottom of the screen with your finger and drag it up. It's quite a tricky operation, but after a few attempts, you'll be able to do it right.
Before using, though, the feature must be activated in Settings – System – Gestures – One-Handed Mode. Switch it on there, and there's no need to restart your device.
Spread the News!
Well, Google has something to surprise most of us and get some of us sold on new features. If you are one of them (or guess your friends might be), share this on your pages on social media, so your subscribers can see it. Want to discuss it? No problem. Just drop the comment down here and wait for replies.