As the immersive world of Teyvat captivates millions of players in Genshin Impact, there comes a time when adventurers yearn to explore new realms and embark on fresh quests. If you have already conquered every corner of Teyvat or simply seek a different gaming experience, fear not! In this article, we present you with the top 5 alternative games that offer compelling gameplay, riveting stories, and enchanting settings. Let us venture forth into these virtual lands of magic, adventure, and discovery!
1. "NieR: Automata" - The Beauty of Mechanical Evolution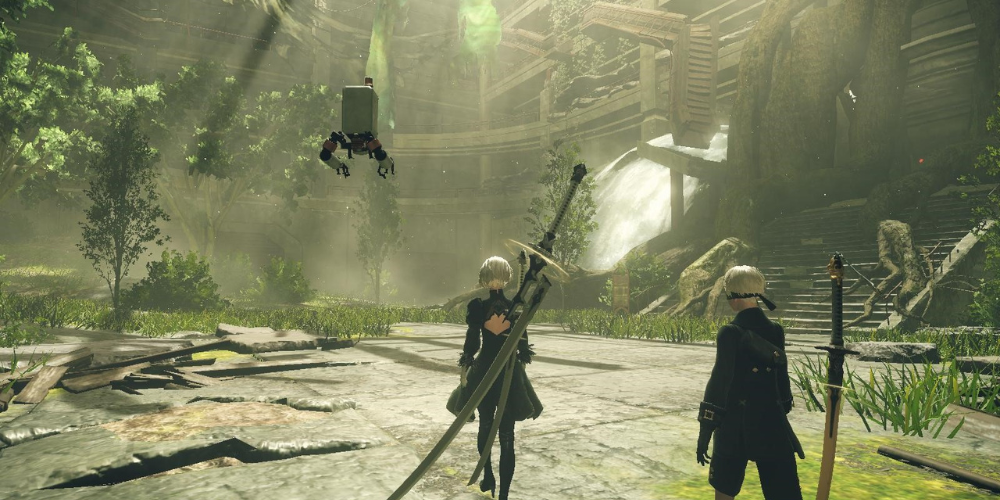 Gameplay:
NieR: Automata, developed by PlatinumGames, is an action RPG set in a post-apocalyptic world overrun by mechanical beings. Players assume the role of combat androids, 2B and 9S, as they fight to liberate humanity from their oppressors. The game offers visceral and fast-paced combat with seamlessly transitioning gameplay styles, blending hack-and-slash mechanics and bullet-hell shooter elements. The thrilling combat encounters are beautifully complemented by a robust leveling system and customizable skill trees that allow players to evolve their androids' abilities.
Story:
The story of NieR: Automata is a rollercoaster ride of philosophical themes and emotional depth. As players progress through the game, they gradually unravel the mysteries of the war between androids and machines, occasionally confronting existential questions about the nature of consciousness and humanity. The narrative is both captivating and thought-provoking, immersing players in a world where the lines between man and machine blur.
Setting:
The game takes place on a post-apocalyptic Earth where remnants of humanity struggle to survive on the planet's surface while mechanical invaders roam freely. The scenery seamlessly transitions from vast, desolate landscapes to intricate and decaying cities, creating a hauntingly beautiful backdrop for players to explore. The juxtaposition of nature reclaiming once-thriving metropolises and the contrast between the serene and the chaotic make for an enthralling setting.
2. "The Elder Scrolls V: Skyrim" - A Legendary Adventure Beckons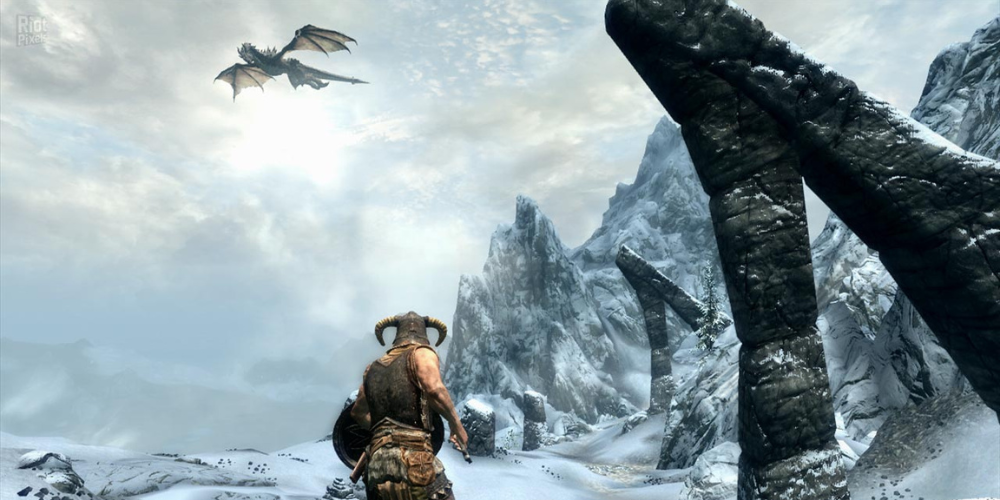 Gameplay:
The Elder Scrolls V: Skyrim, developed by Bethesda Game Studios, offers players an open-world fantasy experience like no other. In this epic action role-playing game, players assume the role of the Dragonborn, a prophesied hero with the ability to harness the power of dragons. The game allows players to explore a vast and breathtakingly detailed world filled with dungeons, towns, and diverse landscapes. Skyrim's gameplay emphasizes freedom and choice, enabling players to pursue various questlines, master different skills, and shape their character's destiny.
Story:
Skyrim's story revolves around the return of the dragons and the subsequent turmoil they bring to the war-torn province of Skyrim. As the Dragonborn, players embark on a journey to unravel the mystery of their own identity and confront the ancient dragon Alduin, the World-Eater. Along the way, players encounter various factions, alliances, and morally complex choices, thereby shaping the fate of not only Skyrim but the entire world of Tamriel.
Setting:
Skyrim's setting is a Norse-inspired fantasy world that features snow-capped mountains, dense forests, and ancient ruins. The province of Skyrim is a land filled with breathtaking vistas, each with its own unique lore and inhabitants. From exploring bustling cities such as Whiterun and Solitude to delving deep into snow-covered tombs, players will find themselves immersed in an expansive world that rewards curiosity and exploration.
3. "Horizon Zero Dawn" - Unraveling the Mysteries of a Future Earth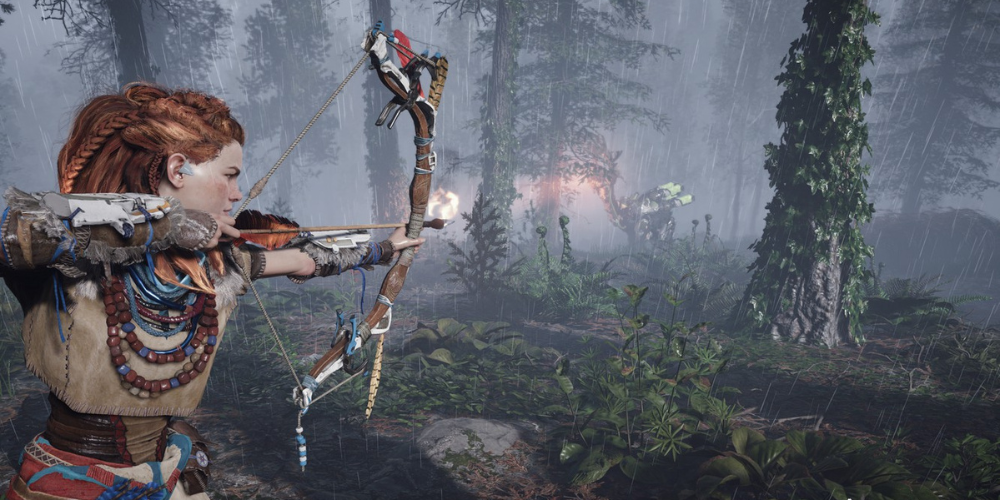 Gameplay:
Developed by Guerrilla Games, Horizon Zero Dawn combines elements of open-world exploration, action combat, and role-playing in a visually stunning post-apocalyptic setting. Players assume the role of Aloy, a skilled hunter in a world dominated by awe-inspiring mechanized creatures. The gameplay revolves around stealth, precision, and strategic use of various weapons and traps to hunt and overcome these formidable machines. With a rich leveling system and a diverse array of skills to master, players can adapt Aloy's abilities to suit their preferred playstyle.
Story:
Horizon Zero Dawn's narrative takes place in a distant future where humanity has regressed to tribal societies, while robotic animals now roam the Earth. As Aloy, players embark on a quest to uncover the secrets of her origins and the truth behind the post-apocalyptic world she inhabits. The story gradually unfolds, blending mystery, ancient technological wonders, and a captivating exploration of humanity's place in a world ruled by machines.
Setting:
The game is set in a visually stunning and lush post-post-apocalyptic world, where dense forests, vibrant meadows, and vast ruins of a technologically advanced past blend together seamlessly. Each location breathes life into the game's lore, allowing players to discover remnants of a forgotten civilization and marvel at the beauty of nature reclaiming the world. Horizon Zero Dawn's setting offers a unique blend of breathtaking landscapes and technological wonders.
4. "Dragon's Dogma: Dark Arisen" - An Epic Journey through Fantasy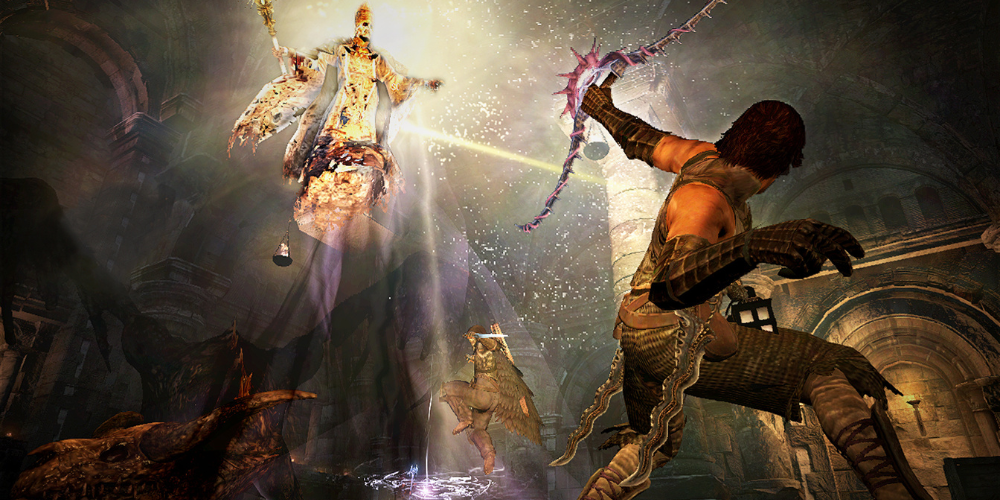 Gameplay:
Dragon's Dogma: Dark Arisen, developed by Capcom, invites players into a vast high-fantasy world filled with mythical creatures, treacherous dungeons, and enthralling combat. Players create their own customizable protagonist, known as the Arisen, and embark on a quest to reclaim their stolen heart while battling gigantic dragons and other formidable foes. The game offers a unique pawn system, where players can recruit AI-controlled companions to aid them in battle and strategize for different encounters. The combat in Dragon's Dogma is fast-paced and dynamic, allowing players to climb on larger creatures and target specific weak points for maximum damage.
Story:
The story of Dragon's Dogma revolves around the Arisen, a hero chosen by destiny to confront the Dragon, a fearsome creature that threatens the land. As the Arisen, players navigate a world filled with political intrigue, morally ambiguous characters, and mythical beings. The narrative unfolds in a non-linear way, with numerous side quests and memorable encounters that shape the player's understanding of the world and its inhabitants.
Setting:
The game's setting is a sprawling open world called Gransys, featuring diverse landscapes ranging from lush forests to eerie swamps and towering mountains. Ancient fortresses and dungeons add an air of mystery and danger to the world, while the day-night cycle and weather effects enhance the immersive experience. Gransys is a world brimming with secrets, hidden treasures, and unique encounters, making exploration a rewarding and thrilling aspect of the game.
5. "Kingdom Come: Deliverance" - A Realistic Medieval Adventure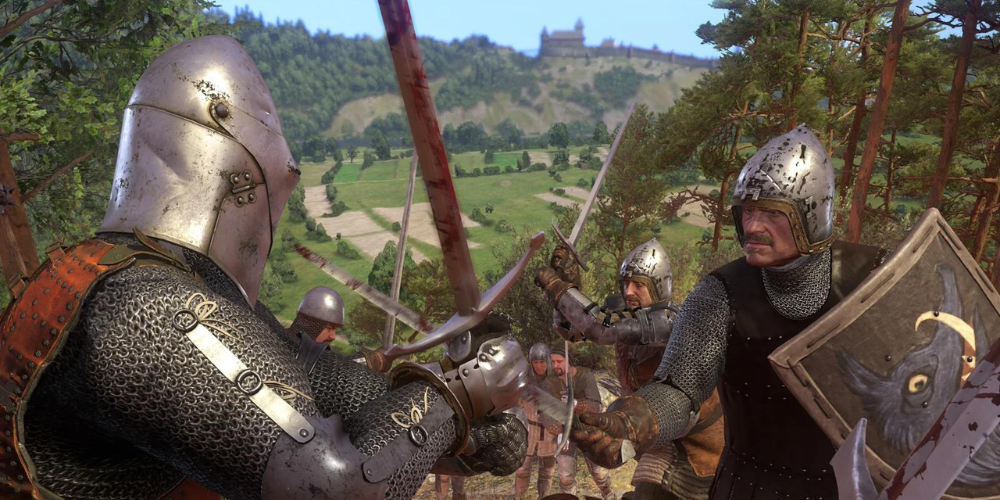 Gameplay:
Kingdom Come: Deliverance, developed by Warhorse Studios, offers a realistic and immersive medieval experience set in 15th-century Bohemia. Unlike traditional fantasy RPGs, Kingdom Come: Deliverance eschews magic and mythical creatures in favor of historical accuracy. Players assume the role of Henry, a blacksmith's son turned soldier, as he navigates the war-torn landscape, engages in intense sword combat, and embarks on quests that shape the fate of the kingdom. The game features a robust skill system that allows players to develop Henry's abilities as a warrior, bard, or craftsman.
Story:
Kingdom Come: Deliverance presents a non-linear narrative inspired by real historical events. Against the backdrop of a warring kingdom and political intrigue, players uncover the truth behind a conspiracy that threatens to plunge Bohemia into chaos. The story is rich in historical detail, recreating the struggles, traditions, and conflicts of medieval Europe and immersing players in a world that feels truly authentic.
Setting:
The game's setting is a meticulously recreated medieval Bohemia, with lush forests, picturesque villages, and imposing castles. Every aspect, from architecture to clothing and weaponry, reflects the historical accuracy that Kingdom Come: Deliverance aims to achieve. The attention to detail makes the world feel alive, with bustling townsfolk going about their daily lives and atmospheric light and weather effects further enhancing the immersive experience.
Bottom Line
While Genshin Impact undoubtedly captivates players with its stunning visuals, dynamic combat, and vast world, these top 5 alternative games offer unique experiences that can satisfy even the most adventurous spirits. Whether you seek philosophical contemplation, open-world exploration, or historical accuracy, each of these games provides a captivating journey filled with compelling gameplay, enthralling stories, and enchanting settings. So go forth, fellow adventurers, and discover the wonders that lie beyond!