Video conferencing is a great way to save time and money when it comes to conducting business. However, there are many different video conference platforms, and sometimes it can be hard to pick the best one for you. I have compiled a list of the top 5 video conference platforms to help you find the perfect one for your business.
Cisco Webex Meetings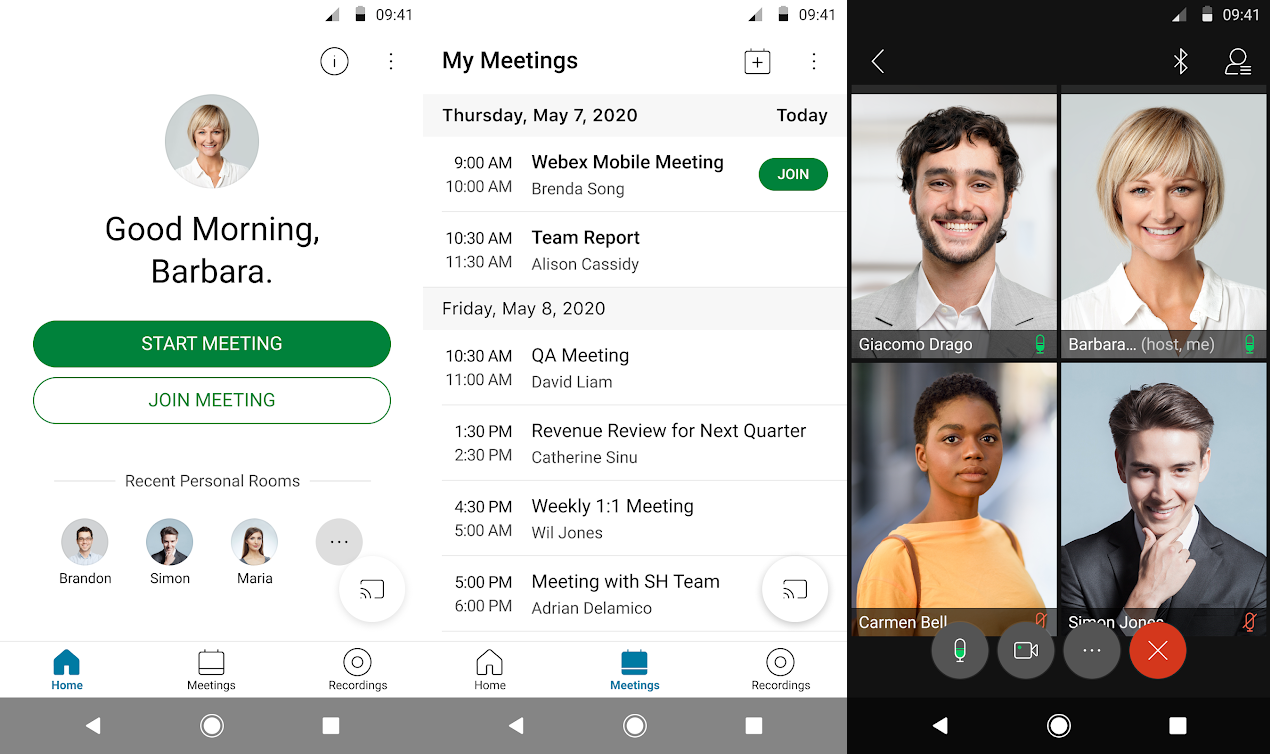 Cisco Webex Meetings is a great video conference platform for businesses that need an easy to use, yet powerful solution for managing their video conferencing. Cisco Webex Meetings provides a platform that can be used for both one-on-one and large group meetings.
It offers the ability to make scheduled video conferences as well as instant "live" conferences. Webex Meetings offers the following features to help businesses stay connected:
a number of tools for setting up, moderating, and managing meetings;
HD video and screen sharing;
high-quality audio and video and the option to customize the video to your preferences;
the ability to set up, store, and organize video recordings;
the option to import information from Outlook.
Google Meet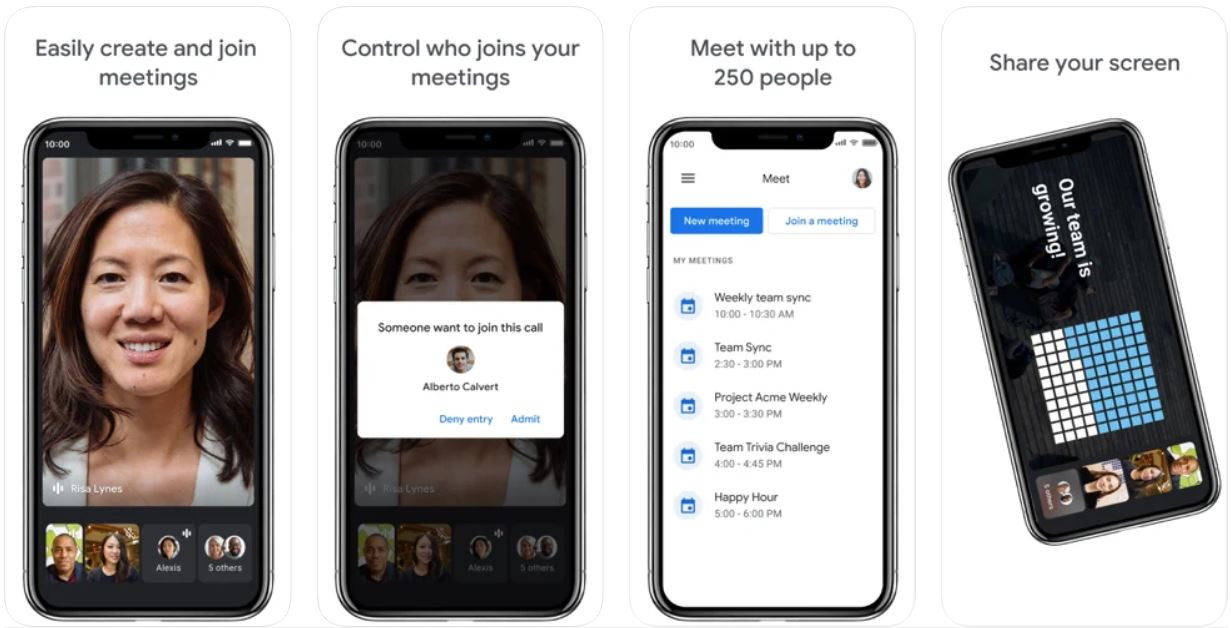 Google Meet is an excellent application for meetings. It is a great tool for those in the education field or anyone who needs to communicate with a team.
What's good is that you don't need to have the app installed, the meetings can be held just using your browser. Besides, you can join a conference straight from your Google Calendar.
With Google Meet, you shouldn't worry about your security, as the app has its built-in protection (and we know about issues with Zoom security).
GoToMeeting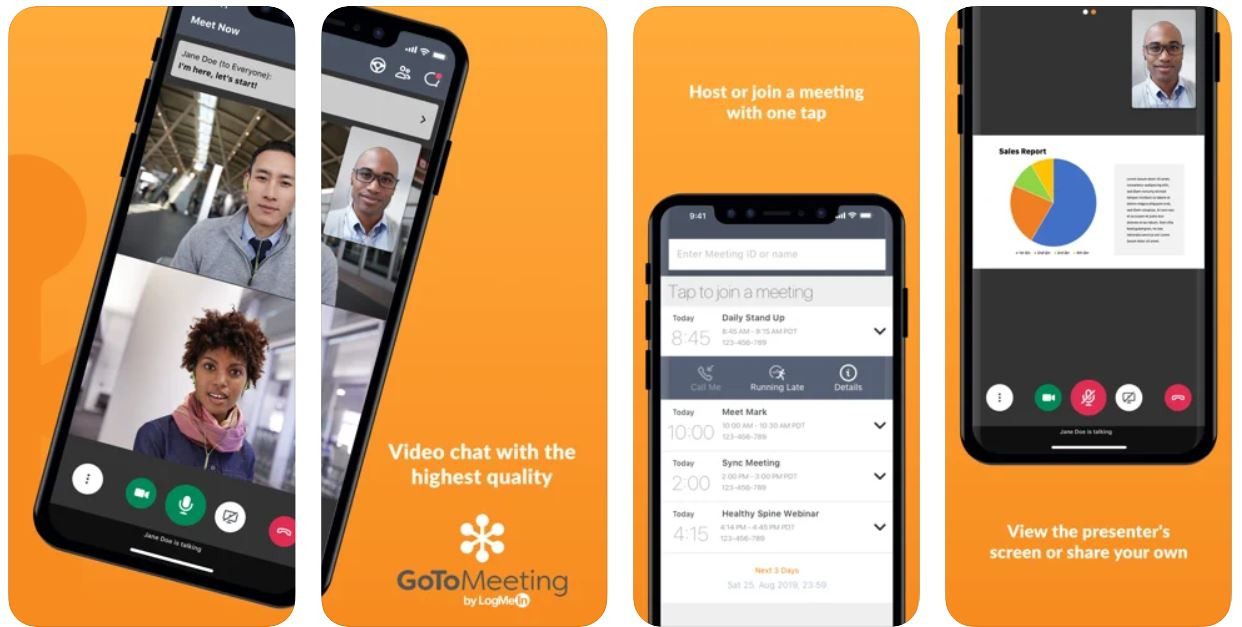 GotoMeeting is a video/audio conferencing app that allows you to join meetings from your phone or computer. You can rent meeting space for an hour, three hours, five hours, or one day. However, the more time you rent, the less expensive it is per hour.
It has a one-time fee for the program and then a monthly fee to rent the meeting space. The interface is very intuitive and easy to use.
GoToMeeting supports up to 25 active webcams during the conference and up to 250 participants. It also has reports that you can download, admin center, and meeting transcription.
BlueJeans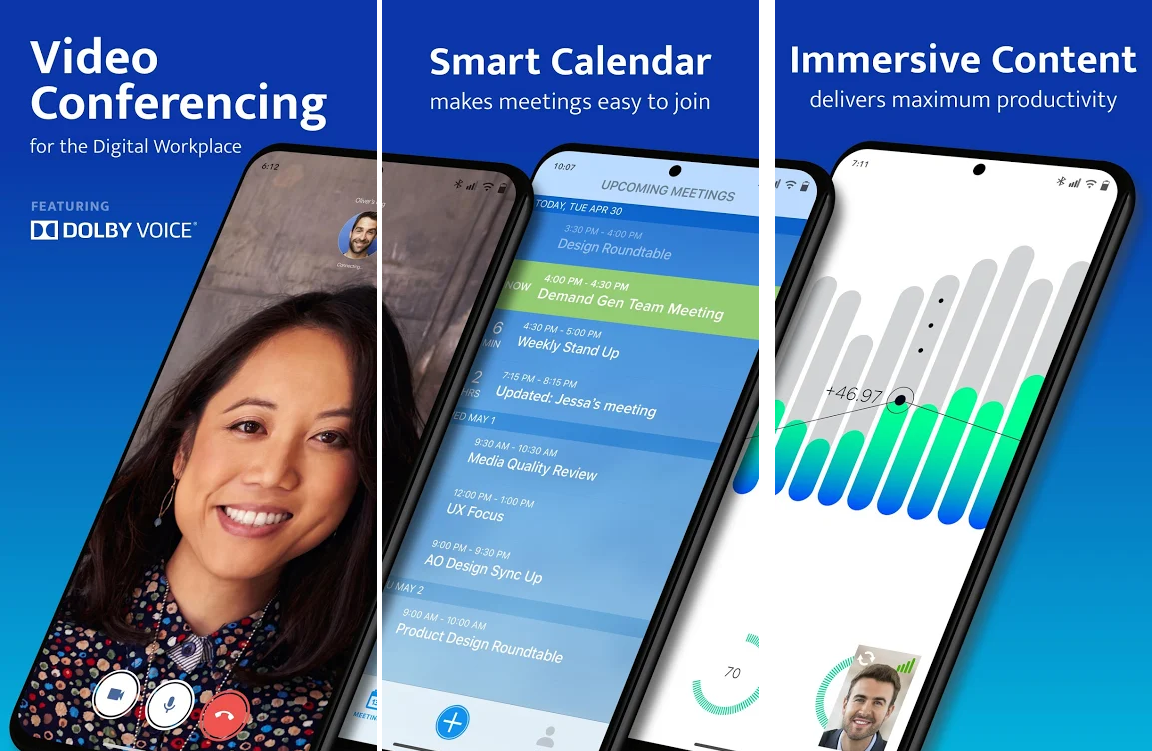 BlueJeans has pioneered the way for effective communication and collaboration with its innovative and reliable videoconferencing and webinar solutions.
BlueJeans is a video conference app that is perfect for small and large businesses. It provides a lot of features, and it is super easy to use. The app can be used on smart TVs, PCs, video conferencing devices, and mobile devices. It provides high-quality video and audio and the ability for multiple people to share screens, control the meeting and have a more interactive experience.
From small meetings to large events, BlueJeans' global video and web conferencing technology saves time and money and eliminates the hassle of travel. Now an established leader in the videoconferencing industry, BlueJeans is trusted by over 4,000 companies in more than 120 countries.
Uberconference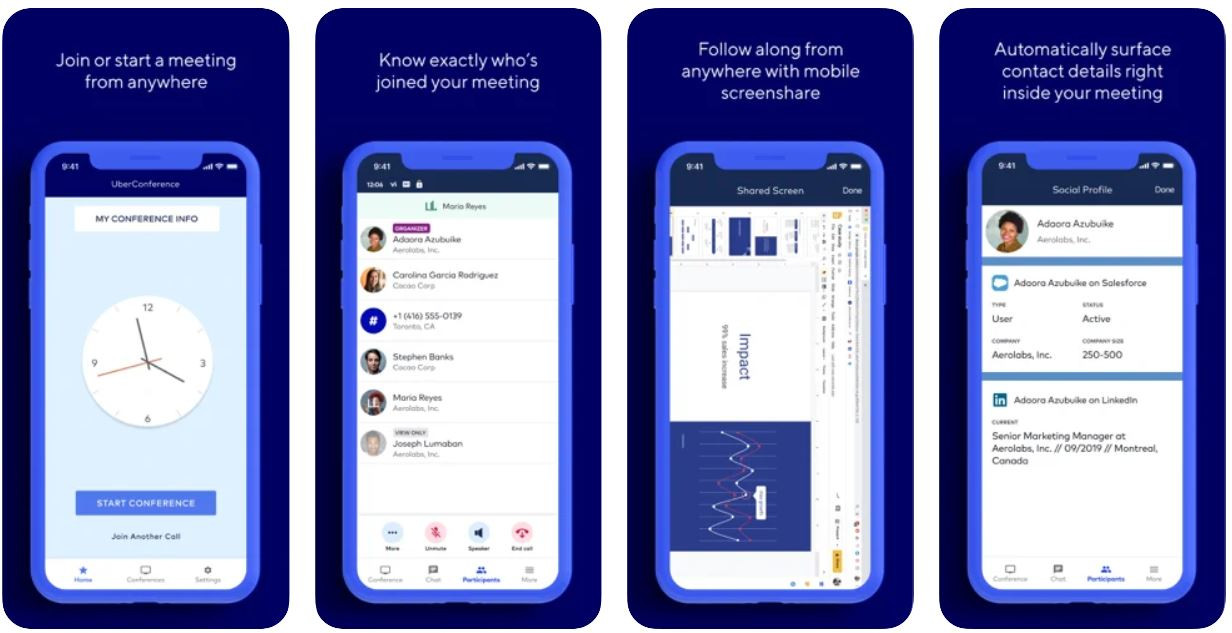 Uberconference is an app that is used for online meetings. It provides a way for many people to participate in a conference. Users do not need to register for the app. They can use their Facebook profile or create a new account.
The app was designed to be a simple conference call app that only features a large video screen and the ability to share screens. Users can adjust the size of the video window to their liking as well as the audio and video quality of their calls. The app also includes a countdown timer to prevent the meeting from going overtime.
The Bottom Line
Video conferencing apps have been around for a while but have seen a significant uptick this year. You can just stick with the one that your company uses or consider one of those described above. Before installation, you'd better check the plans that these companies offer on their websites.